SH4 history
Saturday June 29. 1991. Was a great day for misorganised beer drinking
in southern Norway.
ScandiHooligan H3 was founded by Petter SCAR W/2Ts Nygard
I had recently returned to Norway after living for one year in Pattaya,
Thailand. Hashing with Pattaya Dirt Road H3 and Pattaya H3 I had got hashing in
my blood (together with lots of beer).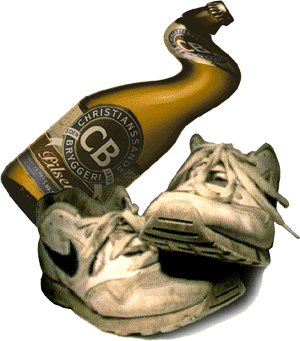 And where I live in Norway (Kristiansand)there is no hash chapter around,
nearest is Oslo H3 about 4 hours away. And thatís to far to go
every time you want to have serious fun.
So the idea to start a drinking club was slowly shaping in a beer thirsty brain.
After a few words over lots of beer together with the Egeli brothers, myself
and Harald ICE HUNTER Egeli decided to go to Oslo H3 for a run and to see
how they did it here in Norway.
That turned out to be some trip! Consuming waste amounts of beer, running a little
and more beer and down downs. The Oslo hashers has forever since been scared of
visiting ScandiHooligans.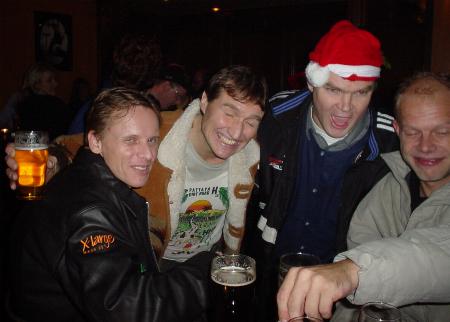 Returning back home I rushed to get some T-shirts printed, spread the word
about this new drinking club, laid a trail, bought a lot of beer and
ScandiHooligan RUN # 1 was ready to take off.
25 thirsty guys showed up to this first run. Some had been hashing before,
but most were virgins.We had a good party, and have been running
last Saturday of the month ever since.